A Passion for Business Innovation – Montecito Magazine Interview with Louise McKaig
Celebrating 100 Years of family history in Santa Barbara, the Montecito Magazine sits down in a feature article interview with Louise McKaig "Manzo" about her family 's longtime history of entrepreneurship and successful Santa Barbara businesses.
Louise McKaig quote – "As a kid I had learned so much about business and being an entrepreneur from working with my dad," says Louise. "My dad taught me that a successful business is created by long-time personal relationships, by always giving a customized experience and by providing a better service to your clients than they can get anywhere else. I think these values have always been at the core of our family's businesses from my grandfather's first Italian Store in the 1920s to my real estate business and my children's businesses."
Montecito Magazine feature article titled "A Passion for Business Innovation"
Story by Leslie Dinaberg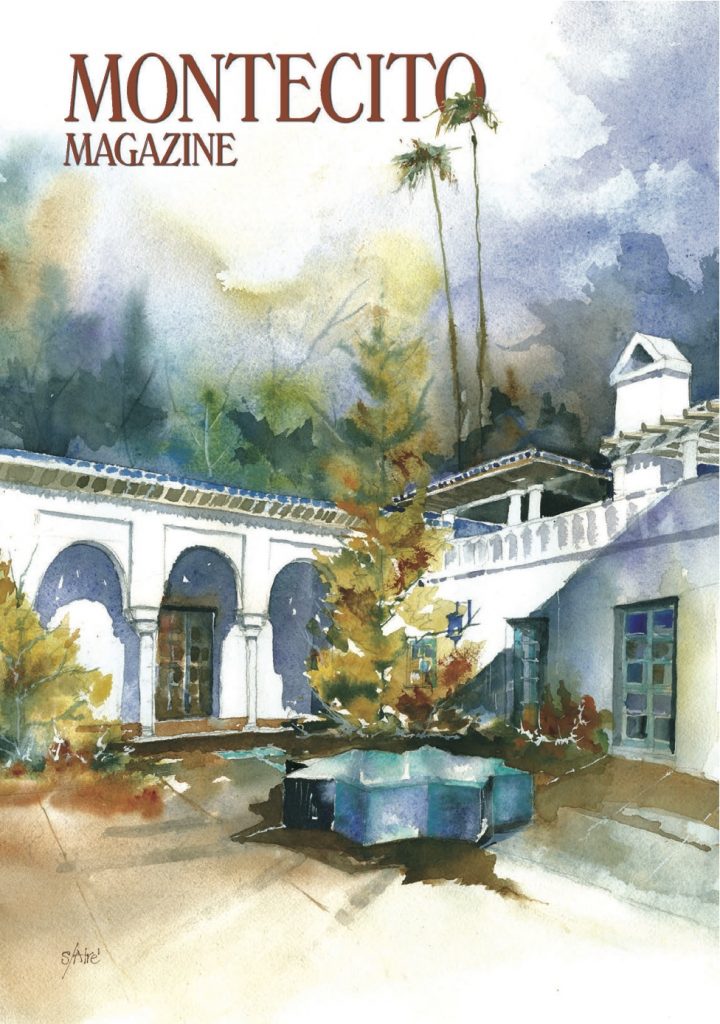 Manzo family patriarch came to the U.S. to pursue the American Dream. Mission accomplished. From the Italian Store to the Pan American Market chain, Enrico's Deli, Casa Flores Tortillas and their current successes in entrepreneurial ventures, hard work—and a love of food and family—run deep in the Manzo gene pool. Luigi Manzo came to the United States from Italy shortly after World War I and— together with his wife, Luigina, an Italian immigrant who grew up in Santa Barbara— opened the Italian Store on February 1, 1929, according to a 1956 story in the Santa Barbara News-Press ("Store Will Give Birthday Orchids"). The imported food market was the first of its type in Santa Barbara, says Manzo's granddaughter, Louise McKaig. The original Italian Store was located at 10 East Cota Street, the historic building that now houses The Palace Grill. In the early days, Luigi and Luigina operated the store themselves. "Specialty and imported groceries and their own make of salami and sausage brought popularity to the store. With a small truck, they delivered orders as far as Santa Paula, Camarillo, Oxnard and Carpinteria," according to the Santa Barbara News-Press.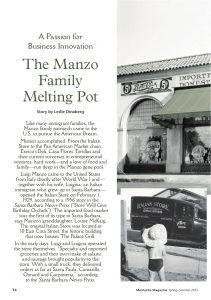 The Manzos' son, Enrico "Pete" (Louise's father), began working in the store at the tender age of seven. "His first job was dusting, straightening shelves and stacking the bulk eggs into cartons," says Pete's wife, Dorothy "Dottie" Manzo. "Pete was still in high school when his father, Luigi Manzo, got sick and handed Pete the keys to the store." In 1947 the family moved the store to larger quarters at 802 Chapala Street (now the back side of Paseo Nuevo mall). Pete graduated from Santa Barbara High School in 1948 and served as an Army medic during the Korean War. He formally took over the management of the store when he completed his military service in 1953. He also met his sweetheart, Dottie Flores. "She was an elevator girl at the Granada Theatre," says Louise. Shortly after Pete's return from the war, the couple was married at St. Raphael's Church in Goleta in 1954. "Seven days after we married, Pete put an apron on me and taught me to use the cash register," recalls Dottie. "I was the head checker and was in charge of training the other checkers. I also prepared the figures for bookkeepers and accountants." The Manzo family grew quickly. Michael, Louise and then Louis were born—all three siblings still reside in Santa Barbara. Michael is an architect and both Louise and Louis are real estate agents. Dottie also lives in town and enjoys lots of family time. The business grew too. In 1955 the store more than doubled its floor space. "At that time there weren't very many grocery stores in Santa Barbara," says Dottie. Unheard of for the time, Pete also built a 14,000-square-foot paved parking lot in the rear of the Chapala store property. "My father was always so innovative," says Louise. "We were one of the first stores to have a parking lot, which made it easier for people to buy more groceries since they didn't have to carry them as far." "I remember we were probably all under ten years old and during the Fiesta Parade one year… our dad gave all of us kids a refrigerated chest full of drinks and sodas and told us to make sure the parking lot was used by customers only, and that we could sell drinks to parade goers in the meantime and keep all the profit from the soda sales for ourselves," says Michael.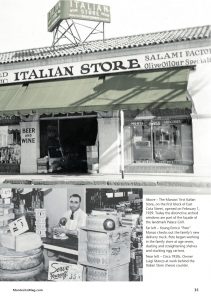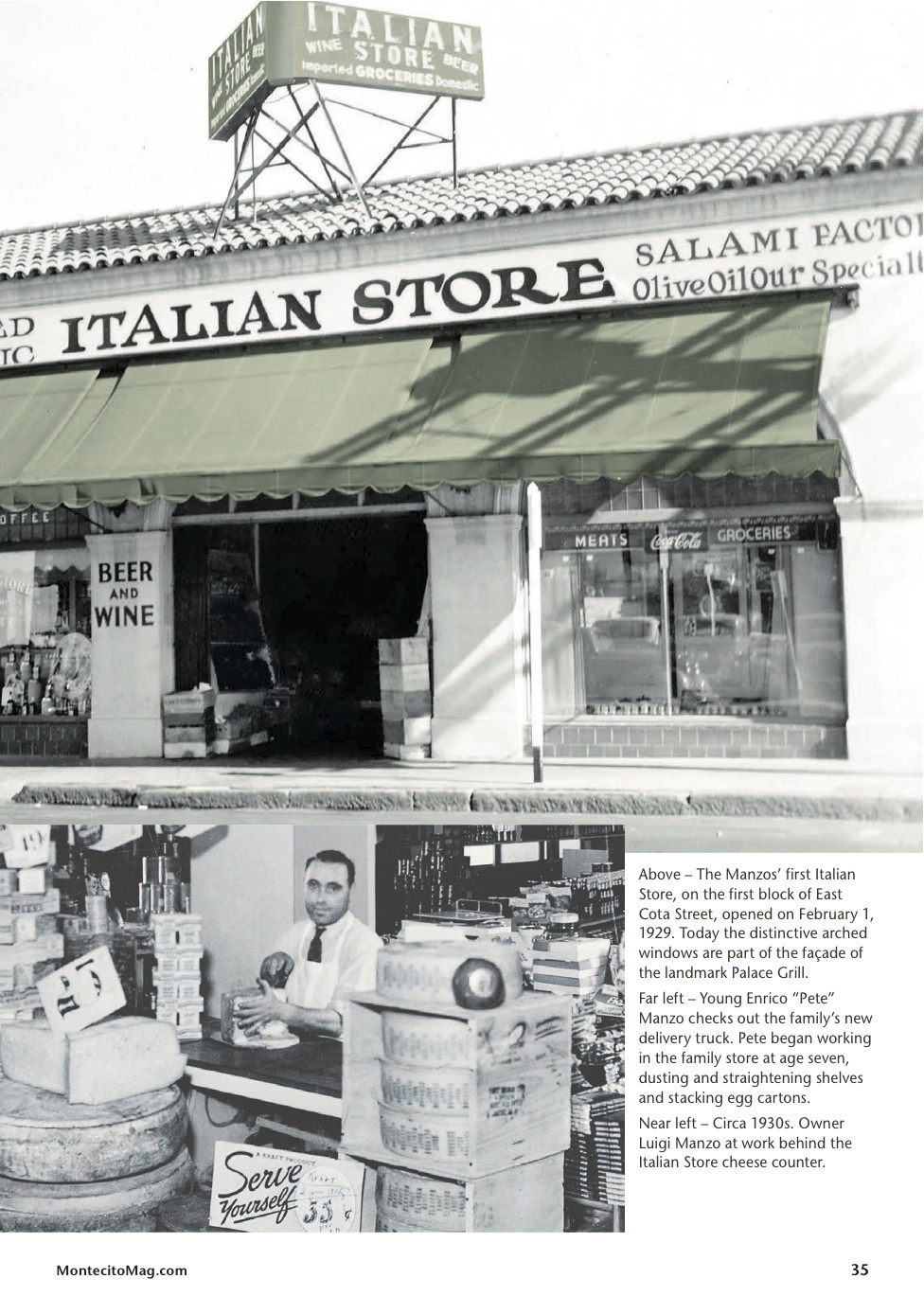 "That was probably our first taste of running a business without our parents," Louise adds. According to the Santa Barbara News-Press report, at that point the Italian Store had 15 employees—including six butchers in the meat department—and stocked more than 5,000 grocery items. In 1956 the store's name was changed to Pan American Market, which quickly became a chain of five stores (co-owned with Jack Woolsey), including one on Milpas Street (current site of Chapala Market), one on upper State Street (now home of BevMo), one in Carpinteria and one on the Mesa. "Jack was a partner for a while when we opened our second store on the Mesa, where Lazy Acres is now," says Dottie. Pete continued to be creative and pioneering with his stores—which featured state-of-the-art checkout equipment, modernized frozen-food departments and other innovations to make shopping easier. He was also always cutting edge with his marketing strategies. One such promotion delighted local children. "My dad had a friend who was a helicopter pilot, and at Christmas he would fly Santa over Santa Barbara and land him at our store on the Mesa," says Louise. "Pete was always coming up with new innovative business ideas, something inherited by our daughter Louise," says Dottie.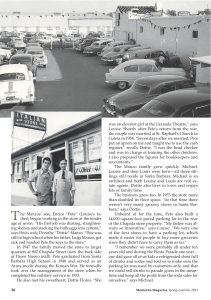 "We had special events, guests or prizes for customers throughout the year, especially for holidays and special occasions." "Sometimes Dad would hire a photographer to take family photos for customers wanting a keepsake," explains Louise. "Creating an experience is an important approach to running a successful business. I've tried to follow in my father's footsteps by implementing a lot of his teachings into my business, like by selling a good product but also a good experience. On Mother's Day he would have orchids given to all the mothers who were shopping at the store." "Growing up, my brothers, Mike and Louis, and I spent a lot of time at the grocery stores. Most of the employees were like aunts and uncles to us," recalls Louise. "I remember bagging groceries for customers, stocking shelves, unloading cases of food off delivery trucks and miscellaneous repairs around the stores," says Louis. "There were a lot of good characters, and we had a lot of fun times," Michael adds. The Pan American Market was one of the first grocery stores to have a full-service deli on the premises, says Louise. A portion of the Chapala Street store eventually became Enrico's Deli, which was beloved for its Enrico sandwich with Enrico sauce. "It was olive oil with really finely chopped celery and parsley and salt and pepper and garlic and a few other things—it was just really good," recalls Louise. "It had just enough strength that you probably didn't want to go on your first date to Enrico's, but it was so good! Plus we used [high-quality] Italian meats."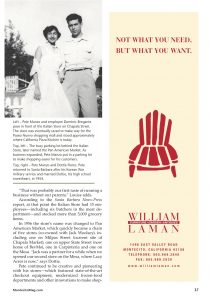 "Enrico's Deli was a success because we had great food and quick lunches," says Louis. "The fast food chains were not in Santa Barbara yet, and for customers who wanted a reasonably priced quick, hot lunch, such as a meatball, roast beef, turkey or pastrami sandwich on a French roll, Enrico's was the place to be." The folks at the website cartas.typepad.com also remember Enrico's Deli and the Italian Market fondly, writing: "They sold salami, salciccie, cotechini alla vaniglia, etc., as well as 'delicacies' of every sort. Many people remember…the extraordinary sandwiches that were made to order, and no matter how long the line was, it was worth the wait. The deli cases were full of cheeses, olives and meats. The shelves were still stocked with 'delicacies' that were hard to find anywhere else—authentic Italian food in colorful packages and tins, and treats from other places, too… France, Germany, Spain…The air was heavy and rich with possibilities. It seemed like the whole city was sad when they closed their doors." The Pan American Market and Enrico's Deli shut down around 1980 when the City of Santa Barbara wanted the property to become part of Paseo Nuevo mall. Of course, the Manzo business doors didn't stay closed for long. "My father would retire and then decide 'I'm too young to retire, I'm not retired,'" laughs Louise. "And then he'd start something again." That next business was Casa Flores, a brand of tortillas. "When my dad went into the tortilla business, tortillas weren't produced and distributed at the level that my father envisioned," says Louise. "My dad's idea for Casa Flores Tortillas was to make tortillas the most popular substitute to the American bread industry." Prior to that, people either manufactured flour tortillas or they manufactured corn tortillas, she explains. "But this was the first time they were both under same roof.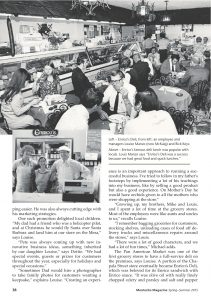 …His goal was to have people think of tortillas like bread." Dottie says, "For Casa Flores Tortillas, the boys were our route managers, in charge of the trucks and routes, while Louise and I ran the day-today of the business, accounting, payroll, human resources, scheduling of over a hundred employees and the office side of things. The main office headquarters was located on Laguna Street." Louise adds, "Our family set a lot of standards in the food industry, like seeing tortillas in every store with their own section, 'food best by' dates and tortilla delivery schedules that matched the bread schedules. These are expected these days, but before my dad thought of these things, it was relatively unheard of." According to a 1975 story in the Santa Barbara News-Press ("Fiscal Front: Tortillas Abound at Casa Flores"), the wholesale Casa Flores Food Factory, located at 526 Laguna Street (now Santa Barbara Paint Depot), had a million-dollar gross per year, turning out 30–40,000 dozen tortillas a day, with a daily fleet of 30 trucks taking tortillas to stores and restaurants between San Diego and Paso Robles. The company was eventually purchased by Mission Foods. Later another company bought both Mission Foods and Casa Flores Tortillas and created the largest tortilla company in the United States. But back in the day, Louise would travel to various supermarkets and food trade shows to demonstrate how to make quesadillas and other things with the tortillas. She explains, "At that time bread was at the center of the American meal, but my dad wanted people to think of tortillas like bread was at the time.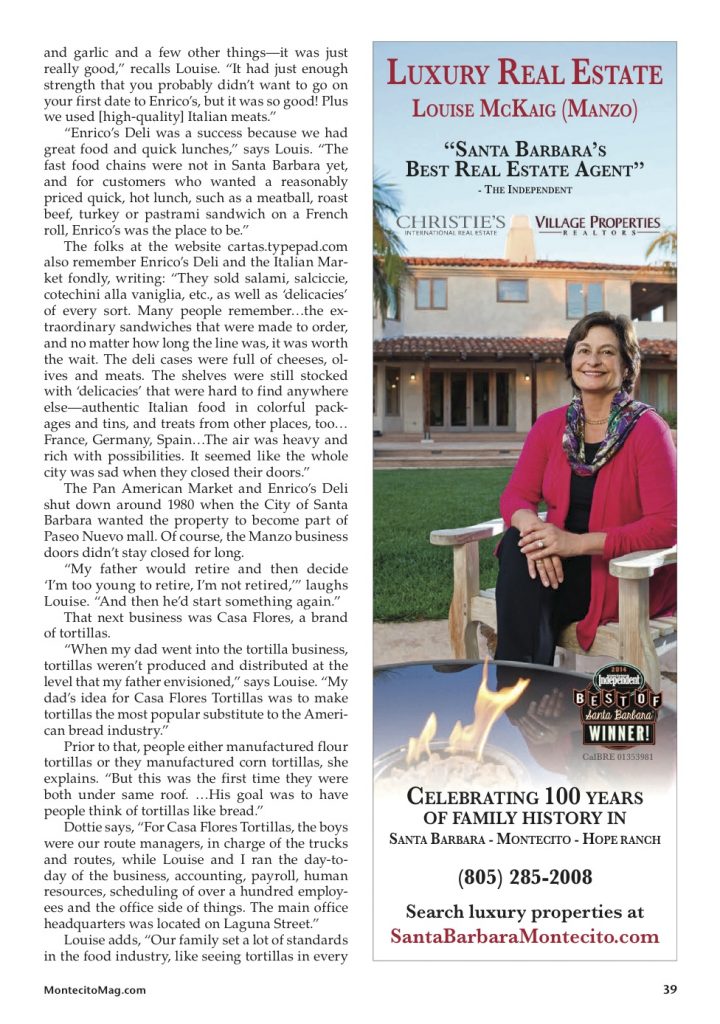 As part of our campaign I would travel doing food demonstrations in various grocery stores, which was a new concept but has become a common marketing strategy today." She continues, "My father employed a chemist and they would experiment with new formulas to make tortillas, but also new ways to use them. … In those days tortillas were typically fried, which is not as healthy, so I started steaming tortillas at trade shows and it became a big hit. At the weeklong Smith's Food King trade show, I made so many quesadillas and I had so many people lining up to try our 'steamed tortilla' quesadillas that I remember making them in my dreams." Louise says her family grew up having family meetings about the businesses. This is a tradition she's continued with her own family, which includes her high-school sweetheart husband, Bruce McKaig, a retired Santa Barbara County firefighter. The couple met when they were students at La Colina Junior High. They have two sons, Samuel and Ian, and a daughter, Shelby McKaig Rowe. "My brother and I started in media and film, so we were doing commercials and helping Louise with her marketing," says Louise's son, Sam McKaig. "My grandfather was always trying to come up with innovative things and that was something he passed on to us, our business meeting family dinners," he laughs. "I love that my family actually invented the honey wheat tortilla. No one was doing that back then and now it's used every day," says Sam. "I even saw a section for them in the grocery stores in France while we were there filming a movie." In addition to business, the kitchen is also at the heart of this family. "Another thing that we've duplicated from my childhood is that we lived three generations together," says Louise. "So my grandmother would be cooking, and we had our chores for how everything would run smoothly, because my mom was working full time. At some point my Uncle Joe came to live with us too. … Now my husband's mom lives with us. And now with me working full time and my husband retired, we sort of switch off making meals." "My parents and grandparents taught me that if you work hard, provide the best products and great service, your customers and clients will keep coming back," says Louis. "As a kid I had learned so much about business and being an entrepreneur from working with my dad," says Louise. "My dad taught me that a successful business is created by long-time personal relationships, by always giving a customized experience and by providing a better service to your clients than they can get anywhere else. I think these values have always been at the core of our family's businesses from my grandfather's first Italian Store in the 1920s to my real estate business and my children's businesses."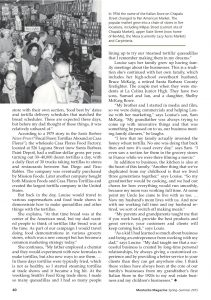 36 Montecito Magazine Spring–Summer 2015
Thank you Montecito Magazine for remembering our family's history.
For more information visit the wonderful Montecito Magazine at their official website MontecitoMag.com
For more information on Santa Barbara real estate and Montecito real estate please visit our official Santa Barbara Montecito Real Estate Team's Website at www.SantaBarbaraMontecito.com