Custom Real Estate Marketing
Providing comprehensive real estate marketing in Santa Barbara, Goleta, Hope Ranch, Montecito, and other parts of Santa Barbara County.
Every property and transaction is different, therefore we don't use the same cookie cutter marketing system you find everywhere else. Our private team of designers and marketers comes from professional backgrounds in film, advertising, and media production. Before a property hits the market we formulate the most effective marketing plan for each specific property. Since each property is unique we will only cover the basic benefits on this page. If you would like to get the details on how Louise McKaig's real estate team can make your listing stand out from the competition click here to contact us.
Real Estate Videos
Our real estate listing videos are syndicated to numerous websites and regularly featured on high ranking social media profiles including our one or more of our high ranking video channels. Our listing videos are regularly ranked on the first page of video sharing sites such as youtube for the most important search terms such as "Santa Barbara real estate", "Montecito homes for sale", and much more. Click here to visit our official Santa Barbara real estate channel.
Real Estate Photos
Photos are often the first contact a potential buyer has with your property. When it comes to advertising a real estate listing, having the highest quality pictures possible can make a huge difference in market reaction. We make sure your home is captured with the best equipment, at the best time of day, with actual professional photographers (Not just real estate photographers) who have worked with magazines, newspapers, corporate advertising, and high end media production.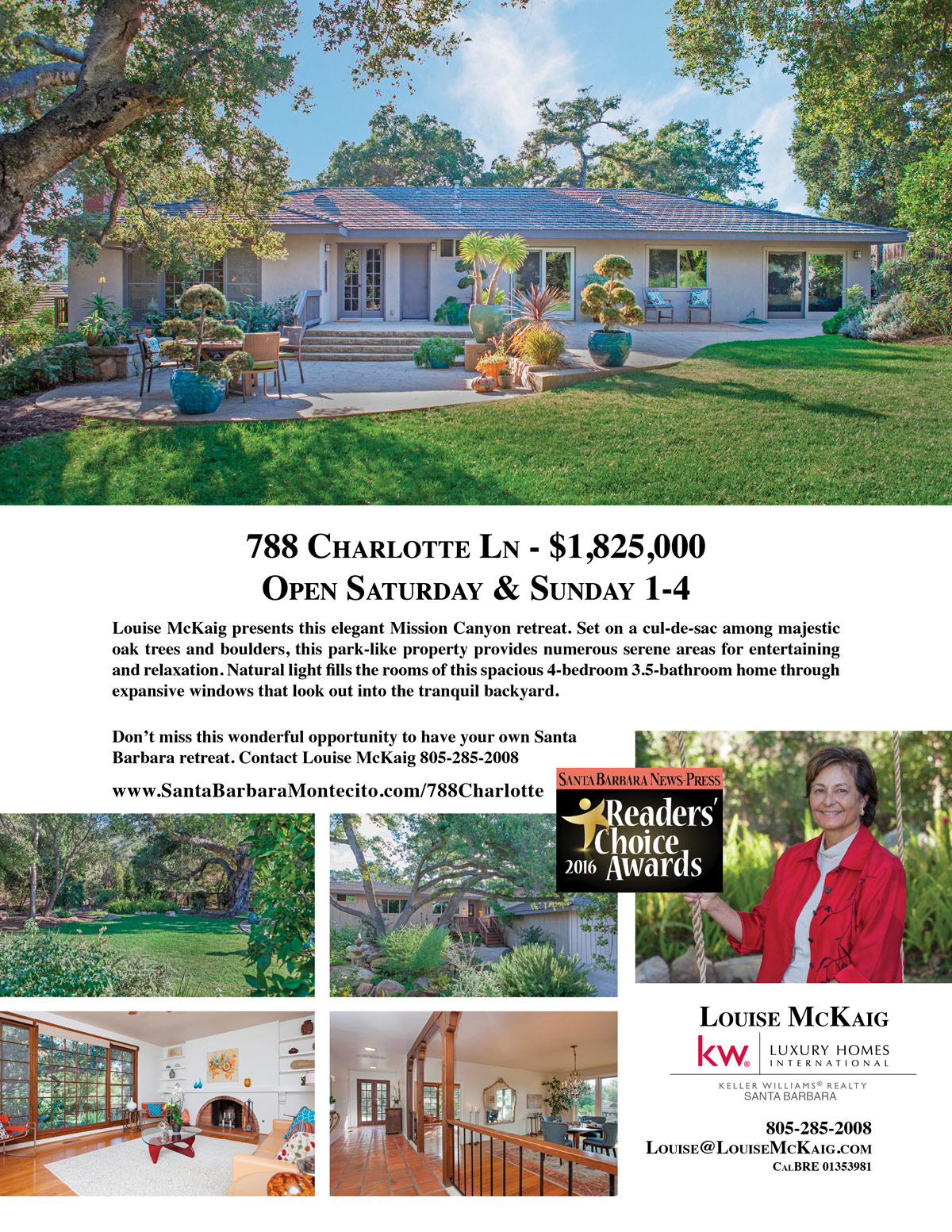 National & Global Marketing Reach
While a vast majority of Santa Barbara real estate buyers are currently living locally, when it comes to high-end luxury estates, the amount of potential local buyers can become a bit limited. It is extremely important that your agent has a strategy, system of targeting, and the connections to the appropriate media outlets that can expose your home in the most effective form. Louise McKaig & our real estate marketing team focus on strategic, targeted, marketing rather than throwing a bunch of random ads around the country. Our marketing team will design custom ads with professional photos and under the direction of Louise McKaig, will place your property to target the most relevant buyers.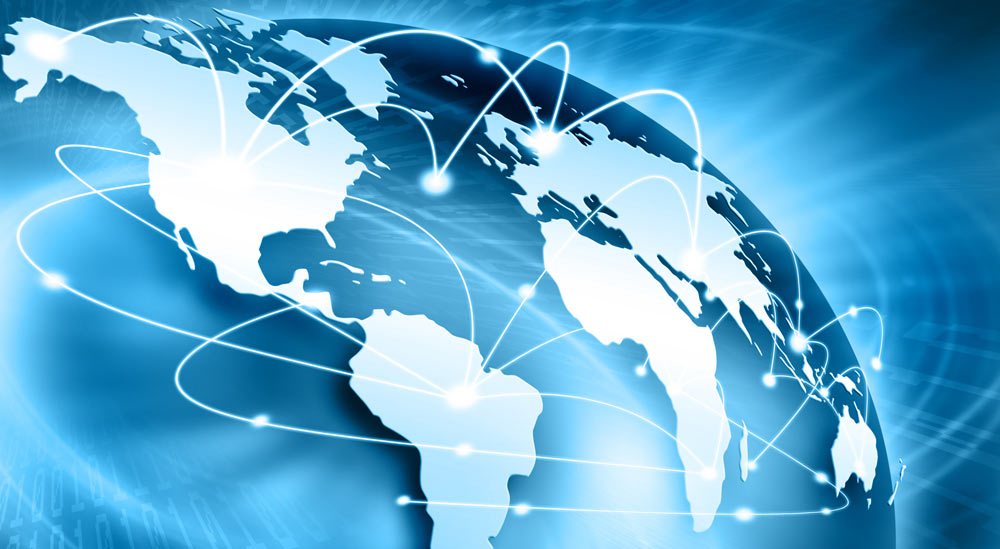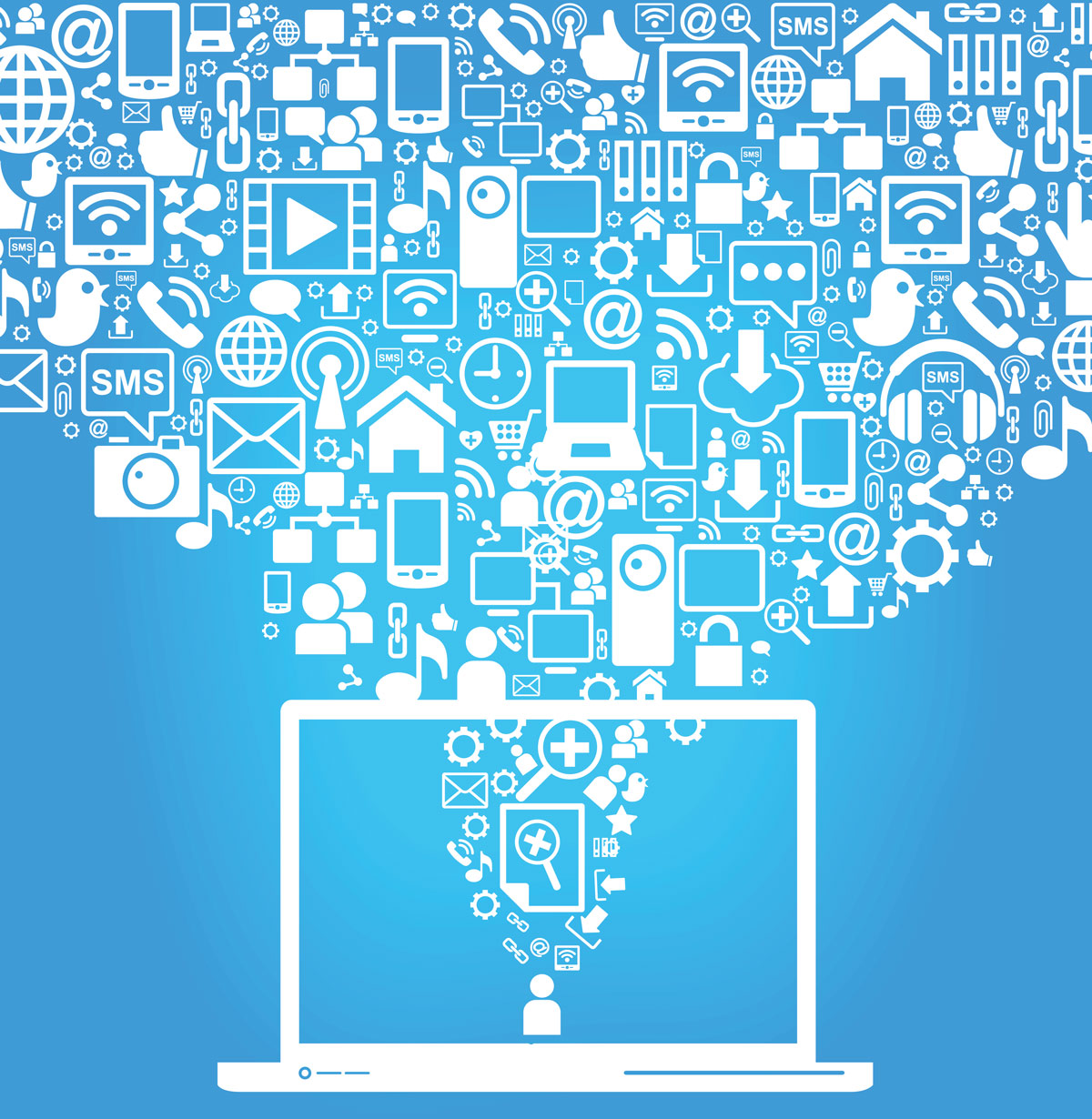 Online Real Estate Marketing
The focus of our real estate marketing is to not just get your home listed on a bunch of websites but to actually get buyers to view it on those sites. Using Search Engine Optimization techniques, well placed advertisements, or social media marketing we drive potential buyers to click and view your listing. According to a recent survey on Realtor.org, approximately 90% of home buyers used the Internet to search for their home at some point. That is why our team of web designers and social media marketers stay on top of new opportunities and work to ensure your property is listed on thousands of websites across the globe.
Social Media For Real Estate Marketing
We maintain multiple high ranking social media profiles for local, national, and global audiences. Social media allows us to continue to engage and update possible buyers who have expressed interest in the property as well as serves as a powerful source in driving potential buyers to view your listing on other sites. Our social media profiles have created alliances with other influential social media accounts to spread the word about our open houses, new listings, updates, and real estate news to their followers.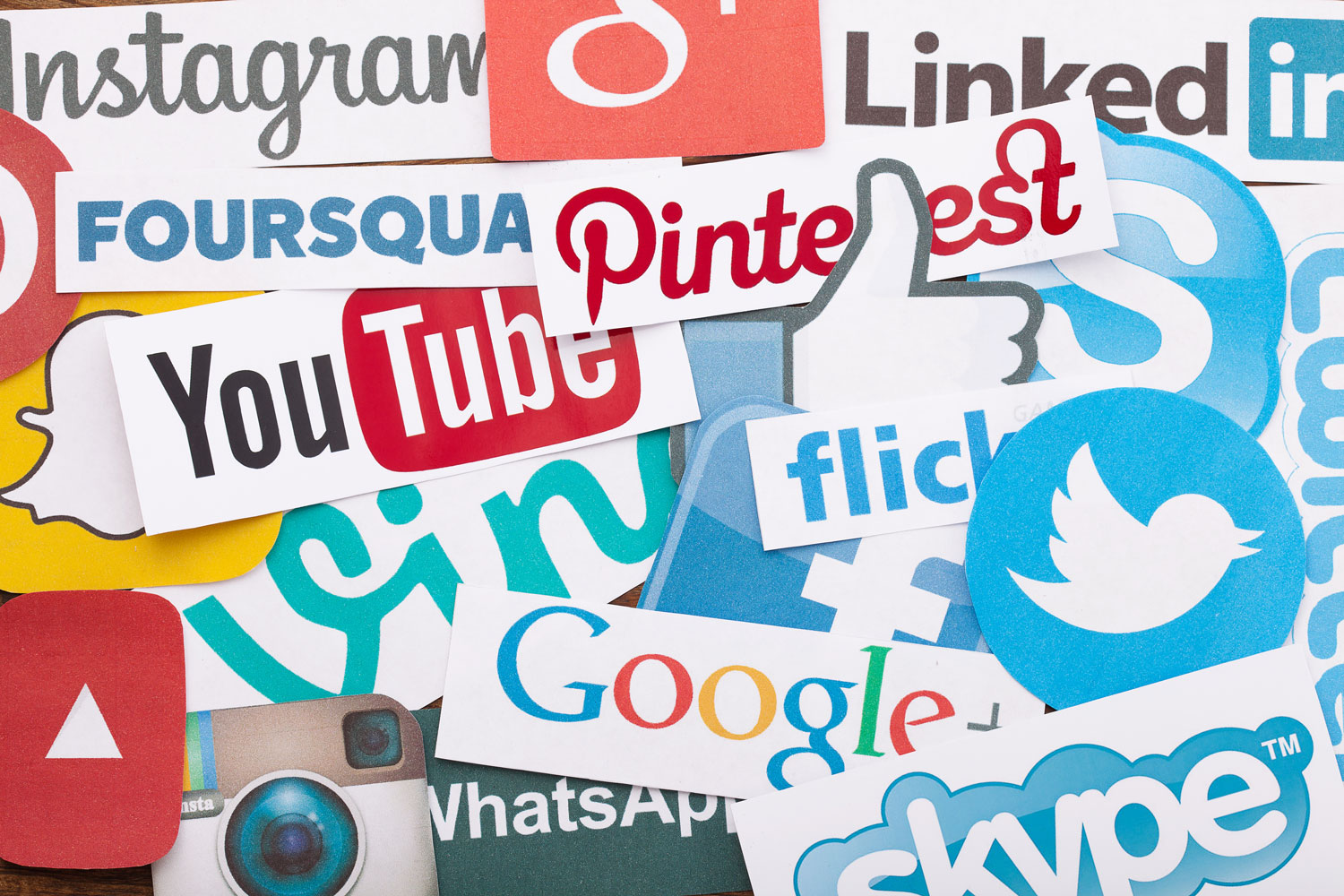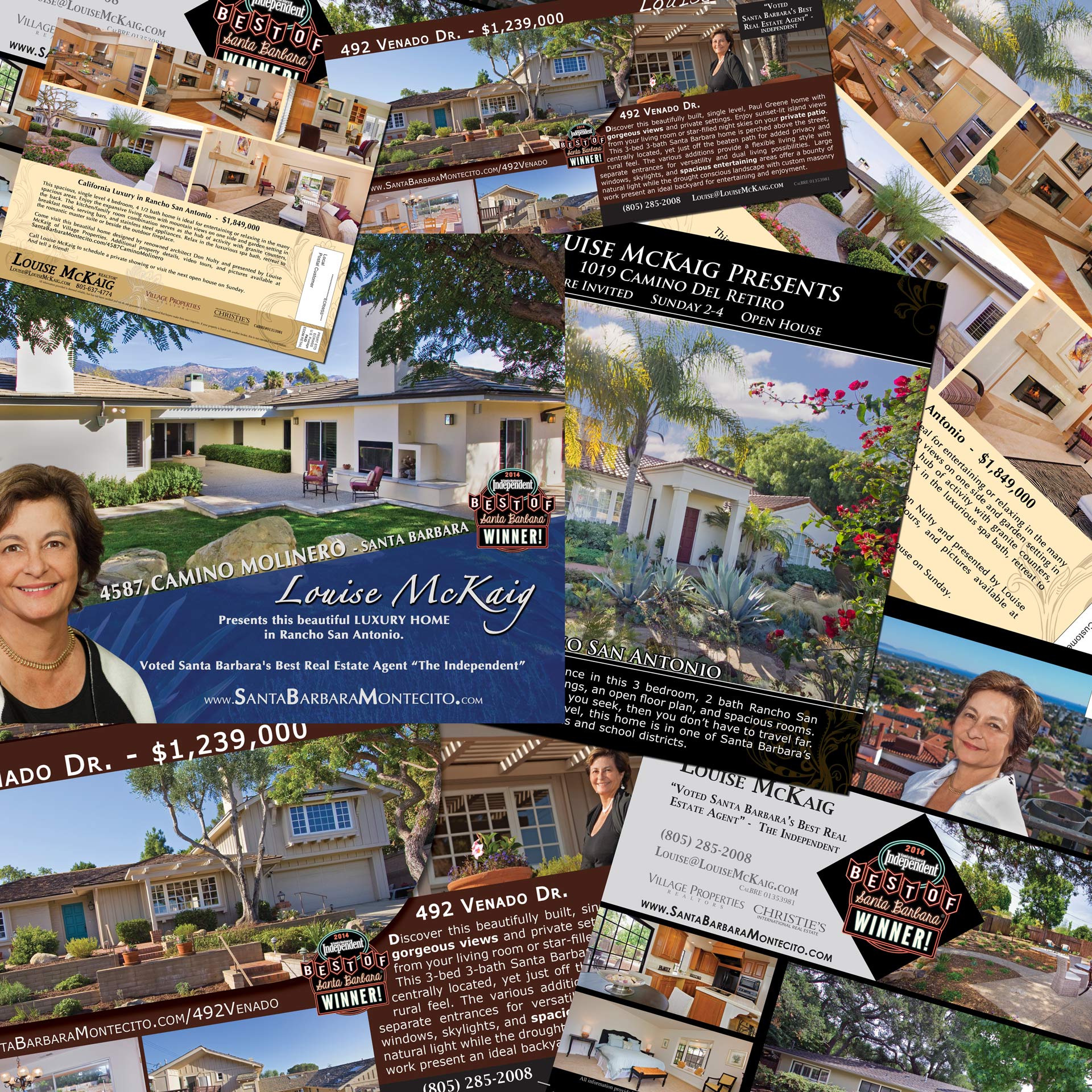 Direct Mail and Printing
The key to the effectiveness of a mailing campaign is in the uniqueness of the print and design so it stands out from the rest of the mail, the targeting of the campaign, the day of release, and the quantity of mailers sent. Our tracking statistics have shown that sending less than a specific amount of mailers is relatively useless (inquire for exact numbers) and choosing specific days or locations will reach the most buyers. Basically, a mailer is only as effective as it's strategy.
Open Houses
A well-planned, promoted, and executed open house still proves to be one of the most effective techniques in selling a home. Prior to holding an open house we list the dates and information in advance throughout the web, print, email, news media, and social media ads.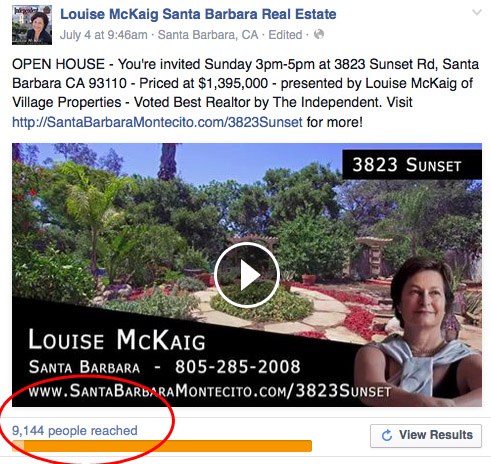 Contact our Santa Barbara real estate team and see what we can do for you.