Custom Real Estate Marketing
Voted Best Realtor - The Independent
Voted Best Real Estate Agent - SB NewsPress
Nominated Best Digital Marketing - LuxuryRealEstate.com
Every luxury property and transaction is unique so rather than just relying on the same cookie cutter marketing system most brokerages provide we add on custom strategies and targeted marketing campaigns. Our private design and marketing team members come from professional backgrounds in film, advertising, social media branding, and media design. Since we formulate a unique marketing plan for each luxury property we will only cover a basic overview of services on this page. Contact us for more details.
Videos
Nominated by The Who's Who Of Luxury Real Estate for "Best Video Marketing".
Our videos are strategically directed to be informative, engaging, and encourage inquiries. We typically produce at least 1 video for potential buyers and an additional, unbranded, video for real estate agents to share with their clients. Our videos are typically:
Syndicated to numerous websites
Shared on high ranking social media profiles
Receives thousands of views from potential buyers across Zillow, Trulia, Realtor.com, Facebook, KW Luxury Homes, and much more.
Featured on blogs & news articles
Ranked on the first page of sites like Youtube or Google-Video for the property's relevant search terms.
Featured on 2 of the highest ranked Santa Barbara real estate channels.
Real Estate Photos
Photos are often the first glimpse a potential buyer has of your property and everyone knows the importance of a good first impression. Your property will be photographed by a professional photographer (Not just a real estate photographer). His works have been in magazines, art shows, newspapers, corporate advertising, Television, and media outlets like the Hollywood Reporter, Screen Daily, The Daily Sound, Casa Magazine, and more. We use professional equipment & lighting to ensure your property is displayed at its best.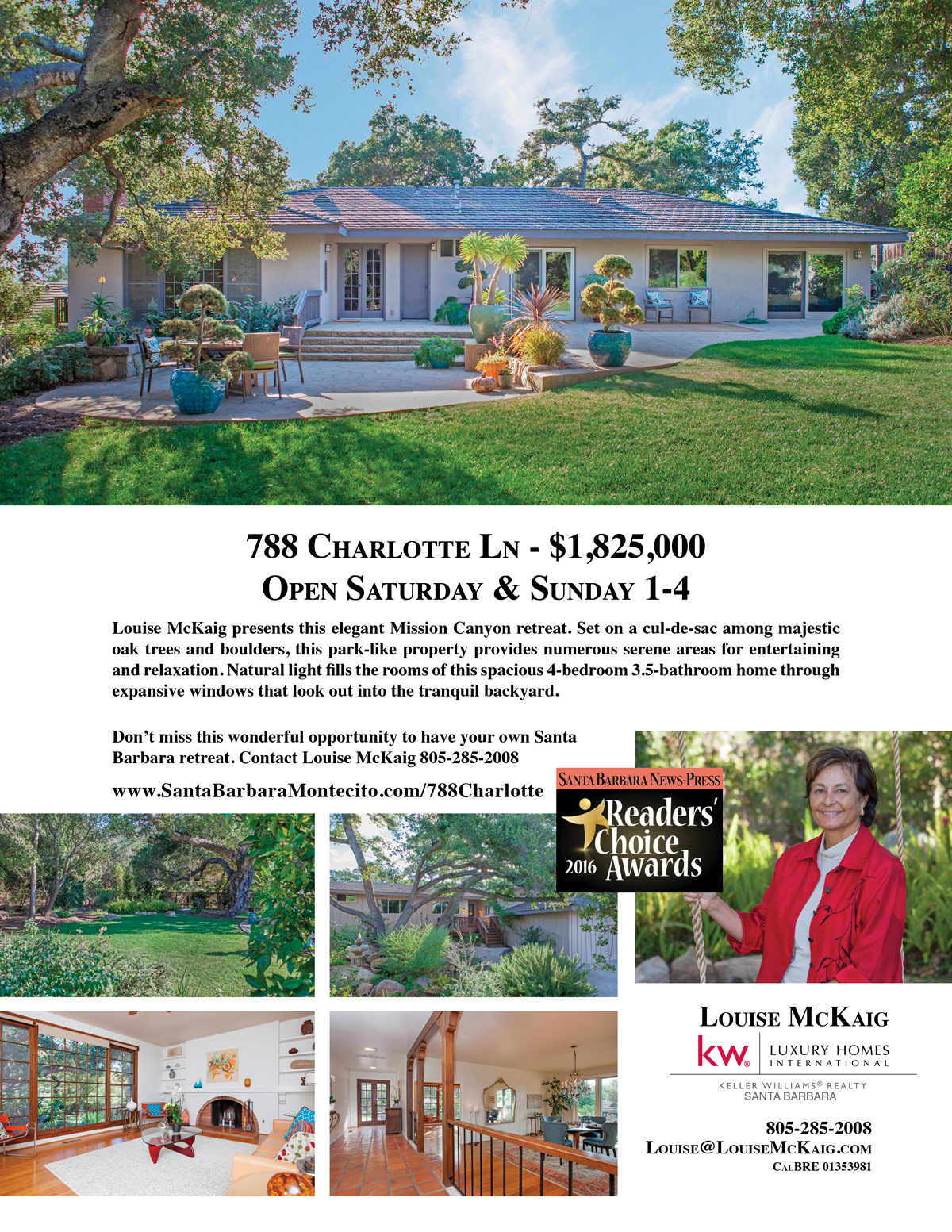 Local Print Media
Your property will be listed regularly in multiple local print magazines or newspapers. Just a few of the publications we work with are:
Voice Magazine | The News Press | Santa Ynez Valley News | The Independent | Homes Magazine | Montecito Journal | Montecito Magazine | Seasons Magazine | Santa Barbara Magazine | Homes & Land and more…
Is print media dead?
Many companies like to say that print media is dead because it is often the most expensive form of real estate advertising and produces a small return on investment. But as any good marketing professional can tell you, strategy is everything.
By tracking marketing efforts we have found that it can be effective with older demographics but only in the promotion of open houses, accounting for as much as 25% of total open house attendees. By timing release dates and using a few in-house strategies we were able to increase print media inquiries by over 50% more than the normal brokerage methods.
Print media may be dying but it is not dead yet.
Global Marketing
While a vast majority of Santa Barbara buyers live locally, it is still important to connect your property with out-of-town buyers. By using targeted campaigns and Louise's large network we can effectively market our listings to buyers around the world. Our properties are typically:
Syndicated to multiple international property search engines
Translated into 19 languages & 30 currencies
Listed on Proxio's International MLS
Sent to Louise's private network of luxury agents around the world at Coldwell Banker Previews, Sotheby's, Keller Williams, Christie's International, and more.
Syndicated to over 100,000 Keller Williams webpages (The largest agency in the world)
Shared with our network of publications & media
Featured on international blogs & news websites
Featured on high ranking social media accounts including our twitter.com/LuxuryLocals
Syndicated throughout Europe, America, Asia & more.

Algeria, Australia, Brazil, Bulgaria, Cambodia, Canada, Chile, China, Columbia, Czech Republic, Denmark, Dominican Republic, Dubai, Estonia, Fiji, France, French Polynesia, Germany, Greece, Hong Kong, Ireland, Italy, India, Japan, Kenya, Latvia, Lithuania, Luxembourg, Macau, Mexico, Monaco, Morocco, Myanmar, New Caledonia, Nigeria, Pakistan, Papua New Guinea, Philippines, Poland, Portugal, Romania, Russia, Senegal, Serbia, Slovakia, South Africa, Spain, Sweden, Switzerland, Tanzania, Thailand, Tunisia, Turkey, UAE, Ukraine, UK, United States, and More.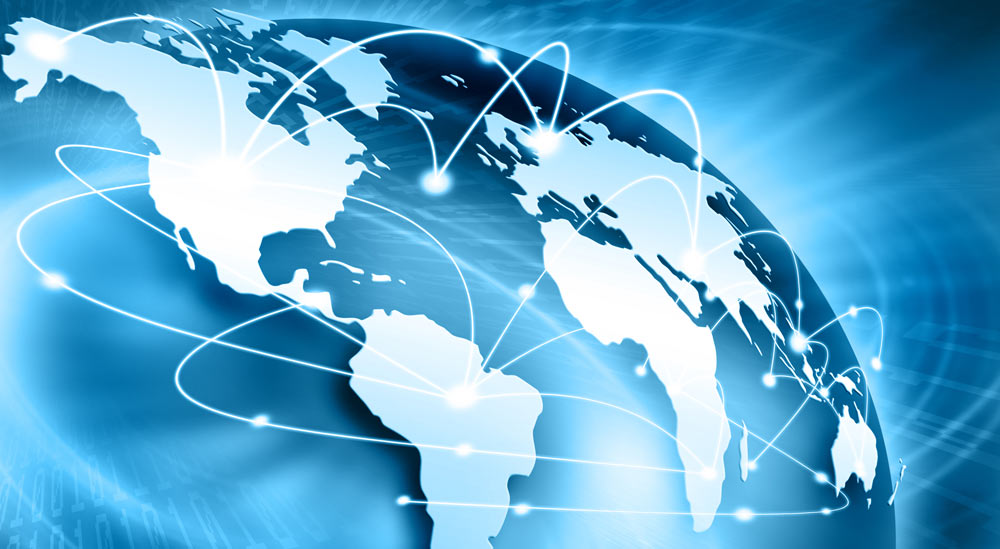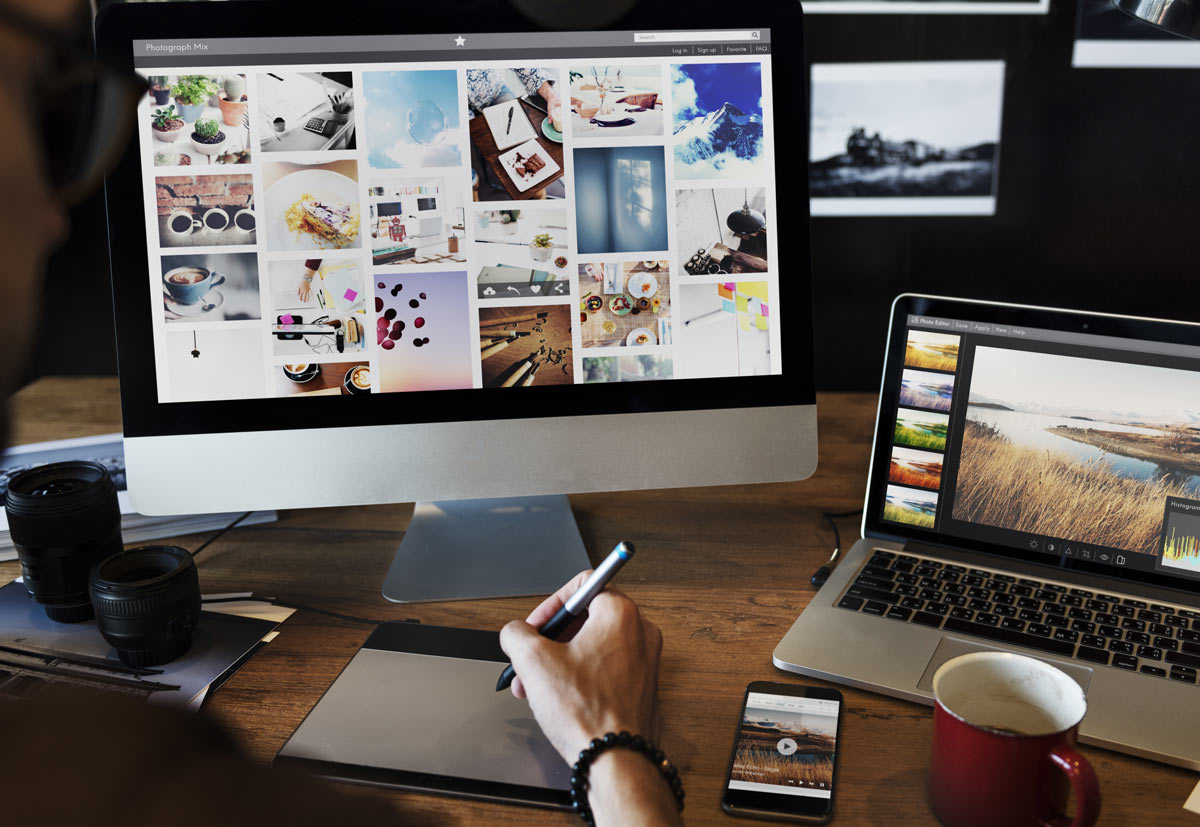 Online Real Estate Marketing
Nominated by the Who's Who Of Luxury Real Estate for "Best Digital Marketing"
The focus of our digital marketing is to not only get your home listed on a bunch of websites but to actually get buyers to see it. Using Search Engine Optimization techniques, well placed advertisements, or social media marketing we can drive targeted buyers to your property and prevent it from getting buried under competing listings. According to a recent survey on Realtor.org, approximately 90% of home buyers used the Internet to search at some point. That is why our team of web designers and social media marketers stay on top of new opportunities and work to ensure your property is strategically placed on websites across the globe.
Social Media Marketing
We maintain multiple high ranking social media profiles for local, national, and global audiences. Our social media profiles have created alliances with other influential social media accounts to spread the word to their followers. Many of our accounts currently outrank the largest real estate companies in the world including Keller Williams, Christie's, Berkshire, Sotheby's, and more.
@LuxuryLocals – Global exposure. One of the world's TOP 5 highest ranking "Luxury Real Estate" accounts on twitter.
@LouiseMcKaig – Local exposure – One of the TOP 5 highest ranking "Santa Barbara Real Estate" accounts on twitter.
FB/LouiseMckaigRealEstate – Currently one of the TOP 5 highest ranking "Santa Barbara Real Estate" accounts on Facebook.
YouTube/SantaBarbaraMontecito – Currently THE TOP highest ranking youtube channel for "Santa Barbara Real Estate" & "Montecito Real Estate"
Ask about our other social media accounts, affiliates, & strategies.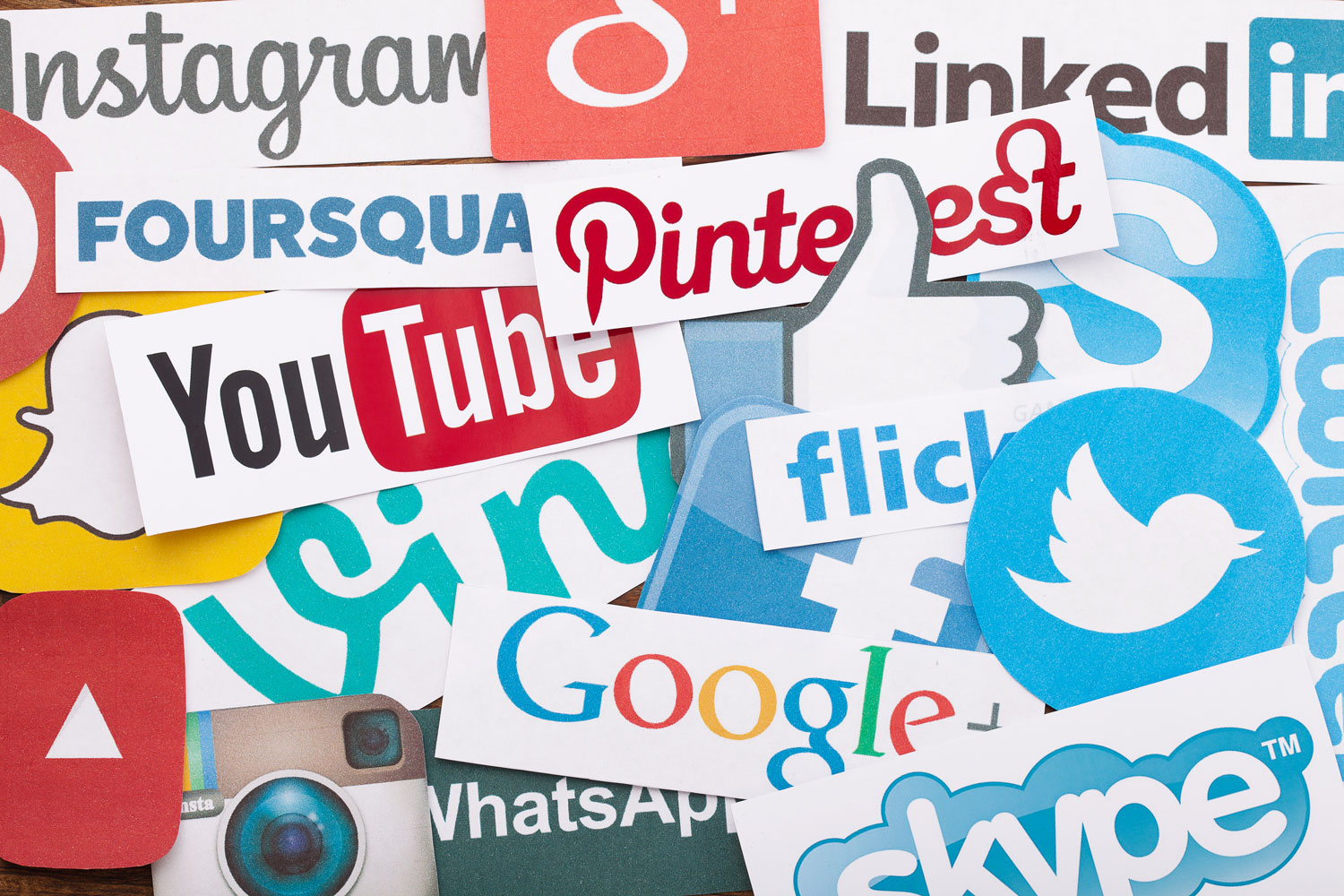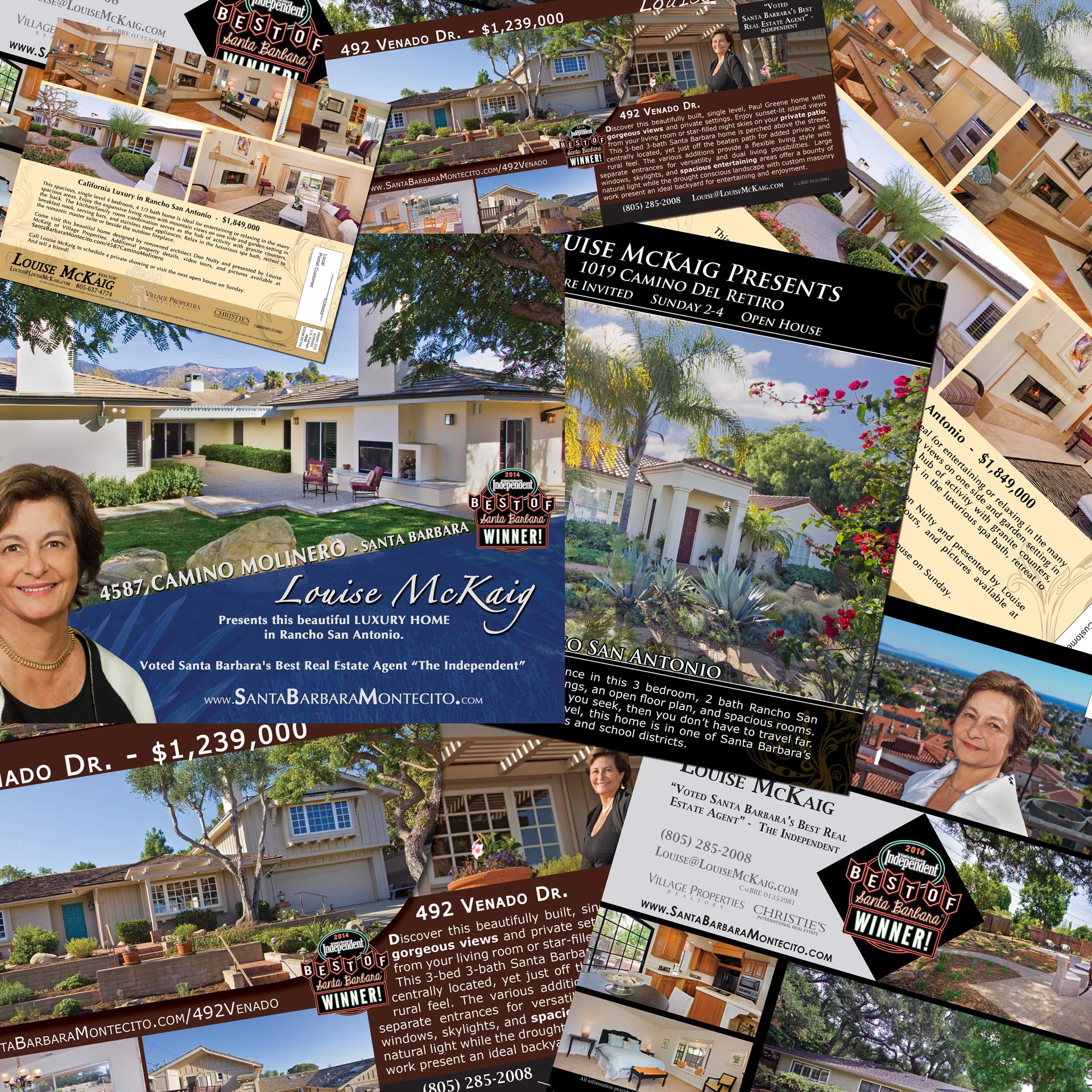 Direct Mail and Printing
Direct mail is only as effective as it's strategy. The key to an effective mailing campaign is to make it unique, targeted, and to understand the quantity necessary to generate a response. Our tracking systems have shown that sending the amount of mailers offered by real estate brokerages is useless (inquire for exact numbers). Our programs and accounts allow us to create effective mailing campaigns that can generate as much as 20% of open house attendees.
Open Houses
We have sold many homes off market and understand that every situation is different but a well-planned, promoted, and executed open house still proves to be one of the most effective techniques in selling a home, no matter what your price range.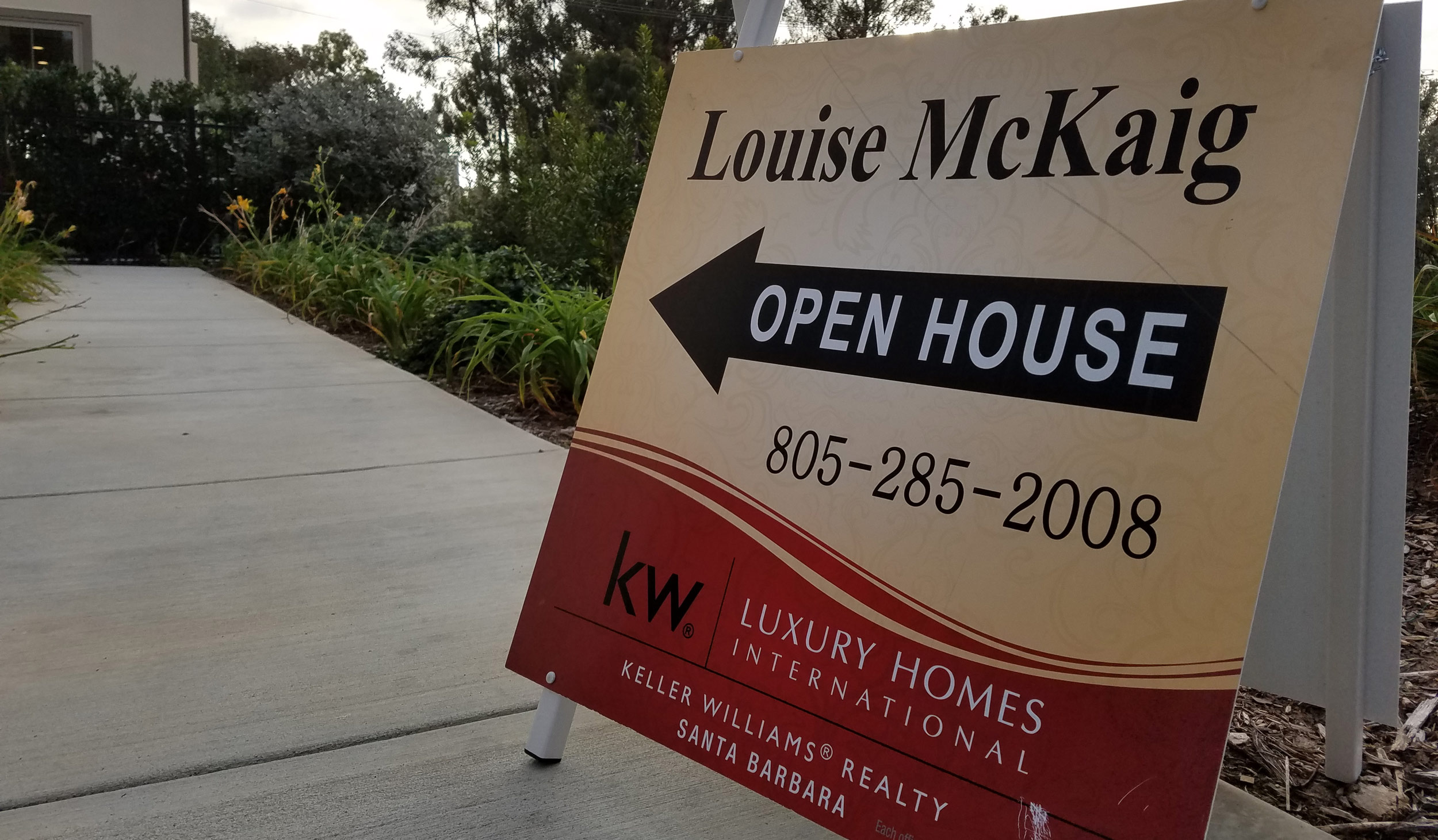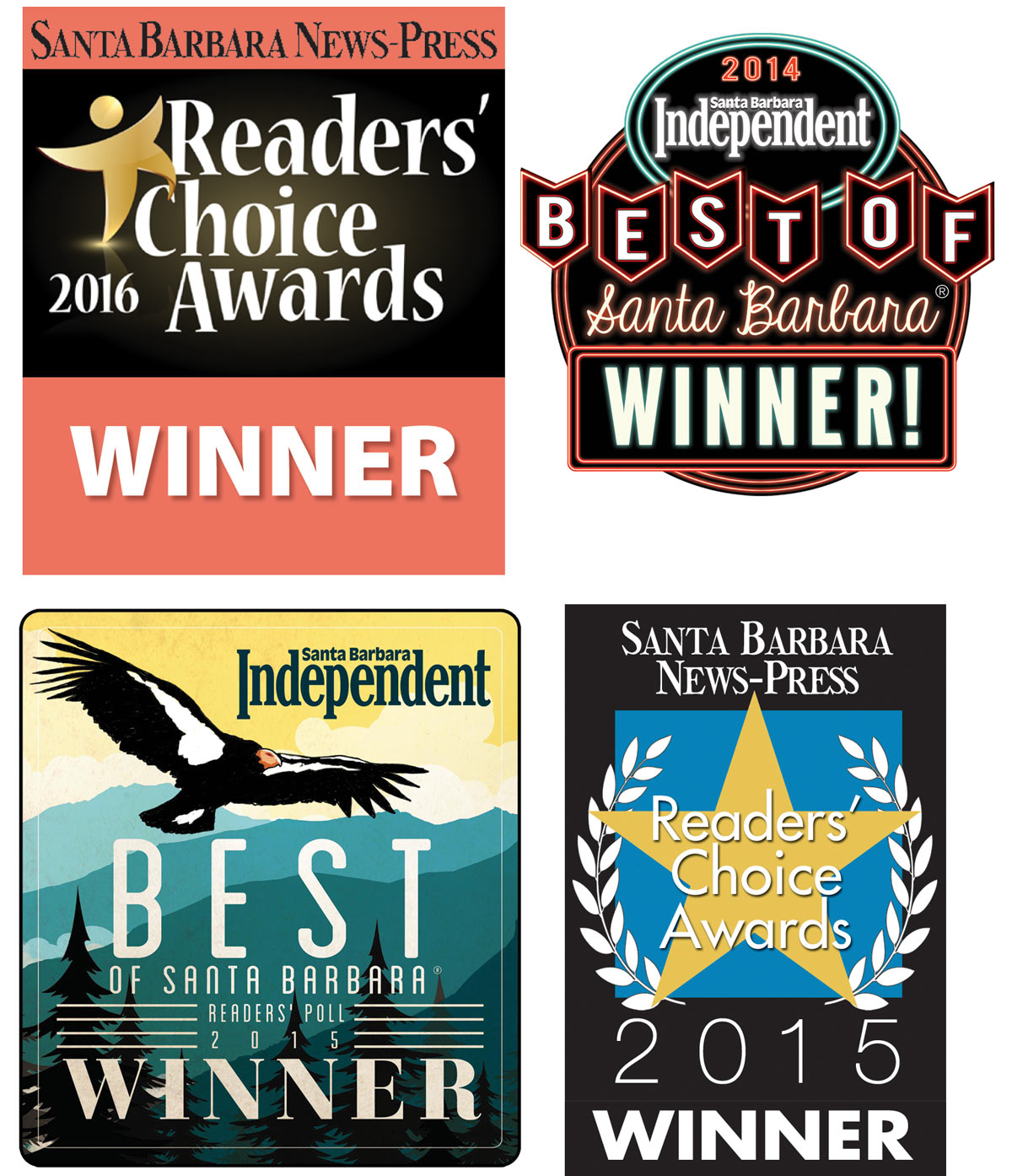 Network & Reputation
Louise's reputation and networking has created a large following that can't be bought. Our local and international network of professionals & buyers has allowed us to often gain multiple offers on our listings before they even hit the open market. Through phone, email, networking, and pre-marketing we are able to generate a lively buzz for our listings.
Contact our Santa Barbara real estate team and see what we can do for you.